Telegram is bringing in the new year with a feature-rich update. Version 8.4 brings a slew of new features, including iMessage-like message reactions, spoilers layout style (first shown earlier this week), in-app translation, and more. Take a peek at all of the Telegram's new features.
Telegram Is Here With New Features
Users will be able to respond to messages with a specific emoji, similar to how they can on iMessage, Instagram, and even Facebook Messenger. Users will be able to use these message reactions in group/individual chats and channels, and they will have their own animation.
People will be able to personalize message reactions to their taste, which is an intriguing feature. It can be done on Android by going to Settings -> Quick Reaction, and on iOS by going to Settings -> Stickers and Emoji -> Quick Reaction. Telegram users will be able to choose whether or not to use the functionality.
Spoilers is another tool that adds a fun new dimension to communicating. The usage of Spoiler formatting allows someone to hide particular parts of communication. When a user taps on the message, it becomes completely visible. Telegram also offers a translation feature that allows users to translate messages directly from the app. This function is available to all Android users, but it is only available on iOS devices running iOS 15 or later.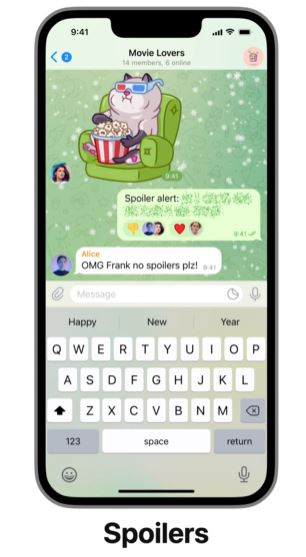 Users can enable the feature by going to Settings -> Language, where a dedicated translate option will appear next to the context menu. The option to exclude fluent languages will be available. Telegram users will be able to create themed QR codes to share their profiles with others.
Additionally, the messaging platform now contains more dynamic emojis that, when delivered to a 1-on-1 chat, will have a full-screen effect. In addition, the platform's macOS context menu has been revamped, with new shortcut tips and animated icons.
Telegram users on Android and iOS have begun to receive all of these new capabilities. Which one is your personal favorite? Please let us know in the comments section below!