Do you want to keep your membership costs down? We all know Netflix is one of the most expensive OTT services in many countries, so I won't blame you if you assume it's the one draining your bank account. Netflix, on the other hand, has lately lowered pricing in a number of regions in order to take advantage of the fierce competition from rival streaming services. This post will explain how to cancel your Netflix account as well as other factors to consider. So, if you're ready to save money, let's get started.
Cancel Netflix Subscription (January 2022)
You'll need a web browser to cancel a Netflix subscription since you'll need to access your account settings. So, as long as your device has a web browser, you may cancel your Netflix subscription in a few simple steps. Let's look at how to cancel your Netflix account on Android, iOS, and desktop PCs, as well as the crucial factors to remember after canceling your subscription.
How To Canccel Netflix Subscription In Web Browser
The procedure of canceling your Netflix account is simple and quick. It does not, however, take immediate impact. Even if you cancel your membership, Netflix allows you to keep your subscription until the end of your paying cycle. Keeping this in mind, it's best to consider canceling ahead of time to prevent any further fees.
If you're dead set on canceling your Netflix subscription through a web browser on your Mac, Windows, or Linux laptop or desktop PC, these are the steps to take.
Sign in to Netflix from a web browser of your choice. Now, hover over the profile icon on the top-right corner and click "Account".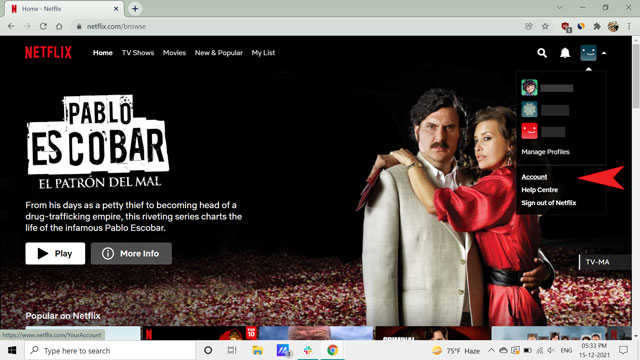 Here, you will see the "Cancel Membership" option under the "Membership and Billing" section.
Click on it and confirm your cancellation on the next page. You need to click the "Finish Cancellation" button to stop your membership on the streaming platform.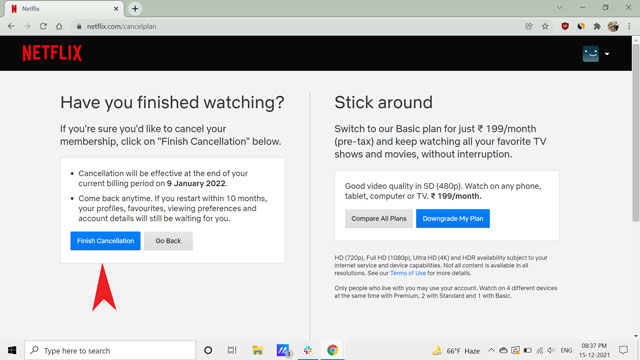 The discontinuation date, which is also the end of your current billing cycle, will be displayed on this page. Netflix also doesn't want its subscribers to abandon the service. As a result, they keep track of your watching choices for ten months after you cancel. You can reactivate your subscription at any time and resume your previous experience.
Note: If you don't see the "Cancel Membership" option, your subscription is being managed by a third-party client, such as your smart TV provider or internet service provider (ISP). In such circumstances, you should contact the service provider to terminate your Netflix membership.
How To Cancel Netflix Subscription on Android
Similar to the desktop app, the Netflix app for Android includes certain unique settings. The majority of it, on the other hand, focuses on downloading content for offline viewing and lowering data usage. You will be routed to a browser page to update additional account-related settings. The instructions below will guide you via the Netflix app to reach the Account settings:
Log in to the Netflix app on your Android device. Tap on the profile icon at the top-right corner.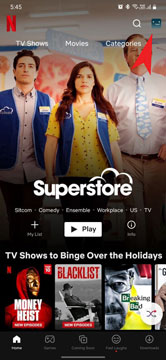 On the profile page, select "Account" from the drop-down menu. In a web browser, it will take you to the Account settings page. Yes, the Netflix Android app does not have account settings, and you will now see a cancellation sequence similar to the one described above in the web.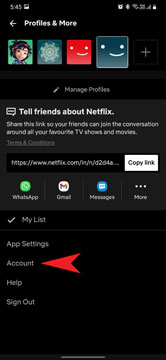 Then, scroll down and click the "Cancel Membership" option.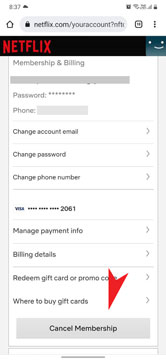 Finally, on the next screen, hit the blue "Finish Cancellation" button to confirm the cancellation. Then you'll see a confirmation notice from Netflix that says, "We've cancelled your membership."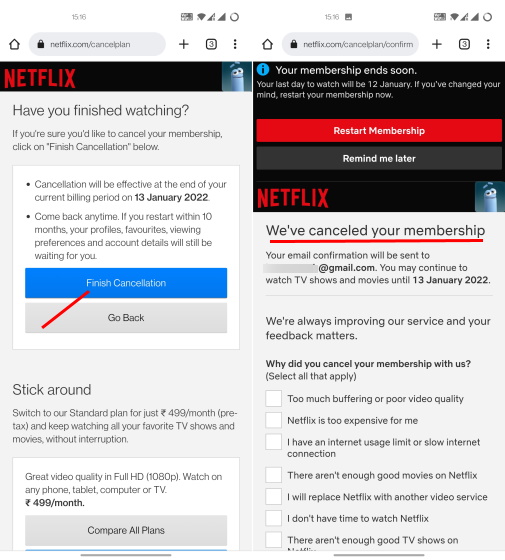 How To Cancel Netflix Subscription On iPhone
You can't alter your account settings on Netflix from your iPhone, iPad, or other streaming devices. To access these settings, you'll need to log in to Netflix using a web browser on your Android phone or PC. Then repeat the steps outlined in the web browser section.
You may view the page in the left screenshot below if you open the Netflix app on your iPhone and tap the profile symbol in the top-right corner. Select "Account" from the drop-down menu, and you'll see a notification that says, "Looking for your account settings?" To manage your Netflix account, please go to Netflix.com."
How To Cancel Netflix Subscription On Smart TV
Netflix does not allow you to access your account settings page from within the app on your smart TV or streaming devices, much like it does on the iPhone or iPad. So, once again, log in to your Netflix account using a browser window and complete the instructions outlined above in the web browser section.
Things To Remember When Canceling The Netflix Subscription
It can be aggravating to skip your monthly dose of amusement. So, if you're making this decision on the spur of the moment, keep these points in mind while canceling your Netflix subscription:
After the current billing cycle ends, your cancellation will take effect.
The subscription or membership will not be cancelled if you uninstall Netflix or do not use it. To avoid subscribing to the streaming service and save money, follow the procedures outlined in this guide.
If you decide to reactivate your Netflix membership in the future, your information will be kept on file for ten months.
If you want to keep your subscription, you'll have to pay for the next month in advance.
If you have a shared Netflix account, change your password to prevent someone else from renewing your membership without your knowledge.
You can miss future payments without terminating your plan if you don't have an automatic payment option. When you rejoin or renew your membership, you will not be charged any additional fees.
If your account is currently on hold, the cancellation will take effect right away.
Assume you accessed Netflix using a gift card or a promotional offer. In that instance, the streaming provider will keep the subscription going until the card balance is depleted. After that, you can decide whether you want to keep your Netflix membership and watch the best movies and TV shows.
Change your Netflix Membership Plan Instead
Netflix subscription options come in a variety of tiers. So, if you're on the Premium or Standard plan, you can save money by downgrading to the Basic plan. In other countries, like India, the Philippines, or Vietnam, you can even choose a lower mobile-only plan to save even more money. That relies entirely on your original goal of canceling your Netflix account.
If you're willing to put up with device limitations and inferior video quality, switching to a cheaper plan is a better way to save money. This way, you won't have to give up Netflix's pioneering binge-watching experience.
Easiest Ways to Cancel Netflix Subscription
There are a variety of reasons why you might want to cancel your Netflix subscription. It could be that you're relocating to another country, cooperating with other family members to share a single subscription, or simply wanting to try out Netflix alternatives such as Disney+, Hulu, or Amazon Prime Video. In any case, canceling
a Netflix account takes less time than making two-minute noodles. We covered all of the stages in this article and hope that they will assist you in terminating your membership. If you found this article to be useful, please share it with your friends and family who may be in need. Also, if you have any questions, please let us know in the comments section below, and we will do our best to assist you.